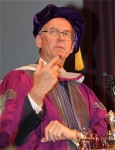 RoadKill Radio News: Mr. Justice Ian Binnie, the former Supreme Court of Canada judge who wrote the controversial decision in the landmark defamation case of WIC Radio Ltd. v. Simpson, is now facing the same charges of flawed reasoning, assumed facts, and lack of legal knowledge in a New Zealand case.
Last year, retired SCC Justice Binnie was paid nearly NZ$414,000 (about C$345,000) to review a demand for compensation by a New Zealand man whose conviction of murdering his parents and three siblings was overturned after 13 years.
In his review, Judge Binnie recommended compensation, reportedly as high as NZ$2 million (C$1.67 million), a review that New Zealand Justice Minister Judith Collins characterized as containing "… assumptions based on incorrect facts." Collins said the review "… lacked a robustness of reasoning … to justify its conclusions."
Kari Simpson, one of the litigants in the controversial case that went before the Supreme Court of Canada, wasn't surprised by the public outing of now retired Justice Binnie by New Zealand Justice Minister Judith Collins.  Simpson wrote earlier today to Minister Collins to inform her that Justice Binnie has previous engaged in similar judicial deficiencies that include writing a decision that is "fraught with unsupported findings of fact, lies treated as facts, manufactured evidence.
Simpson said, "… the New Zealand government has experienced exactly the same corruption of the rule of law as I've pointed out to our Prime Minister, the Justice Minister and the Canadian Judicial Council, and how this sort of misconduct brings the judicial system into disrepute. This scandal bolsters the merits of my complaint."
Simpson continued, "Perhaps if the Prime Minister, Justice Minister and the Canadian Judicial Council had acted on the red flags I raised, New Zealand could have saved itself nearly half a million dollars."
A formal complaint naming Justice Binnie et al by Kari Simpson to the Canadian Judicial Council is pending
-30-
(Photo of Retired SCC Justice Ian Binnie by Paul Mayne, Western News)