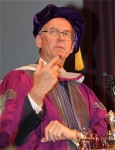 A former Supreme Court of Canada judge is in hot water in New Zealand over what the Justice Minister there calls "a flawed report".
It's the same judge who, while sitting on the Canadian Supreme Court bench, wrote the decision in Kari Simpson's defamation lawsuit—the scandalous case that forms the basis of RoadKill Radio's Drive for Justice Internet webcast series.
In the Canadian trial, Mr. Justice Ian Binnie accepted as "fact" statements that were provably false, and for which no evidence was presented to the court. Further, the high court decision repeated those lies as though they were true, thus further slandering Mrs. Simpson.
Last year, retired Supreme Court of Canada Justice Ian Binnie was paid nearly NZ$414,000 (about C$345,000) to review a demand for compensation by a New Zealand man who had served 13 years in jail after being convicted of murdering five members of his own family—his parents and three siblings. His conviction was later overturned.
In his review, Judge Binnie recommended compensation. State broadcaster TVNZ reported that David Bain could be in line for a payout of up to NZ$2 million (C$1.67 million).
But the New Zealand Justice Minister, Judith Collins, sent the Binnie Report to a New Zealand QC for "peer review"; that review found that Judge Binnie had "exceeded his mandate", and that:
• "…the principles to be applied to an inquiry of this kind… have been misunderstood in the Binnie Report; and … in consequence it would be unsafe to act upon the Binnie Report."
• "Those errors have been compounded by the publicity given to … matters which ought to have been for Cabinet alone… "
• "Binnie J made fundamental errors of principle."
• "The correct principles should now be applied to the evidence afresh."
• "Binnie J criticised named individuals without giving them adequate opportunity to respond…" and
• the Binnie Report is vulnerable to judicial review."
"…the report appeared to contain assumptions based on incorrect facts," Collins said in a Dec. 11 press release, "It lacked a robustness of reasoning … to justify its conclusions."
In a statement e-mailed to the magazine Canadian Lawyer, Judge Binnie, who is currently in Switzerland, called Collins' news release a "political document."
But Collins says she had raised concerns about Binnie's report when she met with the former judge in September, and told him it would be peer reviewed.
"I also advised Justice Binnie the report must remain confidential, and it would be premature to release it until after Cabinet had made a decision on Mr. Bain's claim," she wrote in her statement.
"Since then, I have received from Justice Binnie, unsolicited, two further versions of his report."
Interviewed at her office in Langley, BC, Kari Simpson said, "I'm happy to learn that the New Zealand government has experienced exactly the same corruption of the rule of law as I've pointed out to our Prime Minister, the Justice Minister and the Canadian Judicial Council, and how this sort of misconduct brings the judicial system into disrepute. This scandal bolsters the merits of my complaint."
"This goes far beyond either David Bains' case or mine," she continued. "This reveals how the legal fraternity covers for its own, and yet another example of why the so-called 'justice system' in Canada urgently needs a public inquiry.
"Perhaps if the Prime Minister, Justice Minister and the CJC had acted on the red flags I raised, New Zealand could have saved itself nearly half a million dollars."
Simpson has sent a letter to NZ Justice Minister Judith Collins, pointing out that "while on the bench of the Supreme Court of Canada, Mr. Justice Binnie wrote a decision that is fraught with unsupported findings of fact, lies treated as 'facts', manufactured evidence and… contextual chicanery."
Click here to read Kari Simpson's full correspondence to the NZ Justice Minister.
(Photo of Retired SCC Justice Ian Binnie by Paul Mayne, Western News)