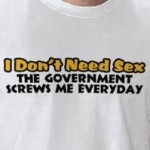 Three stories popped up in this week's headlines that all have to do with governments trying to legislate sex, more or less. Whether it's forcing gay-straight alliances into religious schools, deciding if Canadians can express their religious beliefs about sodomy, or taking measures to keep so-called gay propaganda out of the reach of children, governments are certainly not shying away from imposing their opinions about sex on the public. Read on…
Some Manitoba religious schools say the government is infringing on their religious freedoms with its new anti-bullying law.

About 1,000 staff, students and parents met Sunday night in the gymnasium at Steinbach Christian High School for an information and prayer event regarding Bill 18.

A clause in the bill concerns some religious educators and school communities because it would force schools to accommodate students who want to start specific anti-bullying clubs, including gay-straight alliances. Read more here.
Canada's controversial 20-year-old legal definition of hatred is set to be updated or even overturned on Wednesday, as the Supreme Court of Canada rules in the case of William Whatcott, a born-again anti-gay pamphleteer who ran afoul of Saskatchewan's Human Rights Code.

Pitting freedom of religion and speech against a legal regime that bans the repeated public expression of hate, the Whatcott case could see the legal foundation of several anti-hate laws crumble, including Section 13 of the Canadian Human Rights Act. Read more here.
Russia's foreign minister on Tuesday rejected criticism from the Dutch government and the European Union about proposed legislation that would outlaw "homosexual propaganda."

Responding to Dutch assertions that the legislation may be contrary to Russia's international obligations, Foreign Minister Sergey Lavrov said there were no such obligations.

"We don't have a single international or common European commitment to allow propaganda of homosexuality," he said. Read more here.