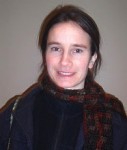 RoadKill Radio News, December 13, 2012
Mary Wagner sits in an Ontario prison, charged with "mischief" and "breach of probation". For what? For talking to women, while giving them flowers and pamphlets in the reception area of an abortion mill.
Why did she do it? In the hope of giving an informed choice and practical support to mothers—and their babies.
In a 'notice of constitutional question', filed for her Nov. 22 by Brantford lawyer Dr. Charles Lugosi under the Courts of Justice Act, Mary Wagner asks the courts to acknowledge that Canada's Charter of Rights and Freedoms, as well as the nation's unwritten constitution, both bestow dignity, equality, life, liberty and security of the person to every living human being in Canada—whether born or not yet born.
Her defense requires an interpretation of Section 37(1) of the Criminal Code by the courts, recognizing that living pre-born children are under the protection of the Charter; and that the words "any one" in Section 37 of the Criminal Code include all living human beings, at any age, whether born or not—regardless of their present legal status.
Mary also demands the right to exercise her constitutional freedoms of conscience, religion, expression, thought, belief, opinion, peaceful assembly and association—which would allow her to use conversational speech, pamphlets and flowers in a peaceful, non-violent manner to persuade pregnant mothers of unborn children not to choose abortion.
To win, she needs to have the courts do what Parliament has failed to do—declare Section 223(1) of the Criminal Code to be unconstitutional. Section 223(1) defines 'human being' as follows: "A child becomes a human being… When it has completely proceeded, in a living state, from the body of its mother…"
This definition, says Dr. Lugosi, Wagner's lawyer, is "out of touch with biological reality; for human beings all commence life from the time of conception."
The Criminal Code needs a definition of "human being" that conforms to modern biological science, practical reality and common sense, he says. The current exclusion of living, unborn human beings from the human family is a matter of politics, he asserts, and obstructs use of Section 37 of the Criminal Code in the defense of a living unborn human being who is about to be killed.
"It is also inconsistent with hundreds of years of Common Law, that gives legal rights to living unborn human beings, in matters such as inheritance."
Mary Wagner says it is only right that living pre-born human beings, who are currently not recognized as persons in law, be accorded equality with born human beings, who are recognized as legal persons.
If Mary's arguments are accepted by the Court, there is an irreconcilable collision between a woman's right to choose death for her living pre-born child, and that child's constitutional right to life; for if the pre-born child is recognized to be a human being, with the right to life, liberty and security of the person, the pregnant mother's liberty must yield to the pre-born person's right to continued life and security of the person. The liberty to inflict an assault ends where it conflicts with another human being's right to be left alone; there, the security of the person from assault, and protection of life begin.
No date has yet been set for hearing Mary's constitutional question.