RKR NEWS
News that matters
RKR News for January 31, 2011
Several new reasons to yank your kids
or
What the &%@# is going on in the classroom?!?
Recent news reports from Sweden may be harbingers of what to expect in North American schools very soon. A Swedish citizen filed a complaint that the new Sex-Ed film Sex on the Map is child pornography: the animated film depicts a high school math class in which a teacher starts the kids talking about sex; it then shows scenes of teens have sex—in many and perverse permutations.
You can read the full report from The Local ("Swedish News in English") at:
http://theblogprof.blogspot.com/2011/01/public-ed-swedish-sex-ed-film-reported.html
The story also includes a report that PETA (People for the Ethical Treatment of Animals) is sponsoring an MTV series that is really "child pornography" (i.e., child abuse by sexualizing children).
Nudity and oral sex in a Grade Two classroom—with the teacher present!
The American Internet news site OneNewsNow (January 22, 2011) says a male Grade 2 teacher has been suspended after students at Markham Elementary School in Oakland (across the Bay from San Francisco) reported that classmates stripped off their clothes and engaged in oral sex during class. The full report is at:
http://www.onenewsnow.com/Education/Default.aspx?id=1279310
Also coming soon to tax-funded indoctrination centres (AKA the 'public school system') near you: Compulsory 'Gender-Bender Days'
Also from the United States comes a report that more and more public schools, to implement promote acceptance of "diversity", are holding "Gender-Bender Days" during which students are required to cross-dress and pretend they are trans-sexuals/trans-gender or otherwise sexually confused. Ironically, one self-described 'gay' student was arrested by local police because she resisted the principal's edict!
Here's the website for the "Gender-Bender Days" report (with truly repulsive videos):
http://www.whatswrongwiththeworld.net/2011/01/gender_madness.html
What makes this story important for Canadians is that Barbara Hall (Chief Commissioner of the Ontario Human Rights Commission), and James Chamberlain (Assistant Director, BC Teachers' Federation Social Issues Division), are working like demented beavers to impose a similar brainwashing agenda on students in Canadian schools. Barbara Hall has also been named President of the Canadian Association of Statutory Human Rights Agencies (CASHRA), a position that gives her great influence in the 'human rights' industry across all of Canada.
Perhaps you remember the BCTF's infamous "staircase" graphic, which exposed their goal of inflicting—not "tolerance"; not "acceptance"—but celebration of homosexuality and Gender Identity Disorder on public school students (One has to wonder if the top rung of the staircase will soon read "Participation"!). The illustration below was a handout at the BCTF's February, 2010 'conference' held in Abbotsford to train teachers how to implement the infamous Corren Settlement Agreement; it shows how the BCTF visualizes its role in moulding the minds of your children and grandchildren: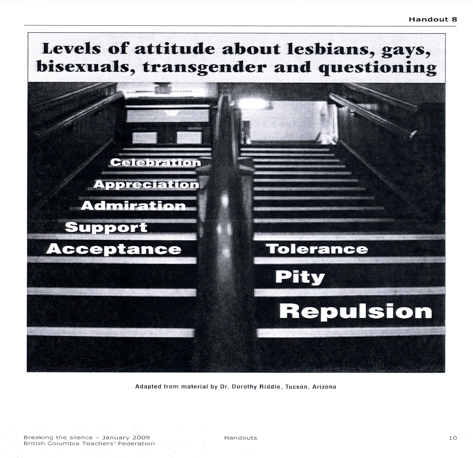 Coming up this week on RoadKill Radio!
Big news about RoadKill Radio – We have been revving-up our engines and ready to roar a little louder!! Tune-in and find out about the exciting news!! Bigger and better!
Then: Is the government using your child's classroom to spy on your family? Yep! Listen in and equip yourself. And then Chris Delaney, Mr. People Power himself, will join us to update Canadians on the Great Canadian HST War!
Tune-in to RoadKillRadio.com this Tuesday, February 1st 2011 at 7:30pm!
RoadKill Radio would like to hear from listeners anywhere who have solid evidence of other locations where this abuse of children and the so-called "education" system is taking place. E-mail us at:

NewsTips@RoadKillRadio.com